Кошницата е празна.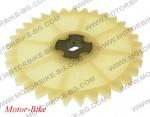 Chinese SCOOTER Gears OIL PUMP (33 T) GY6-50/70/80cc:
SONIK / SCOOD / LIFAN / ZIPP / MEITIAN / VONROAD / KEEWAY / BAOTIAN / KYMCO / KINROAD XT50QT-2 / Peugeot V-Clic
Please make sure this parts fits your particular model. Many bikes have the same name but use different parts depending on the year of manuf...
Доставно тегло: 0,025 кг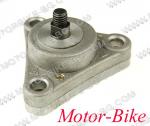 Chinese SCOOTER - oil pump (for 33t oil gear) 139QMB GY6-50/70/80cc:
A replacement oil pump for use on Chinese 4-stroke GY6 50ccm 139QMB/QMA scooter engines. There are 2 crankshaft versions being factory installed in GY6 scooter engines. They differ only in the drive gear for the oil pump on the right side. The ...
Доставно тегло: 0,070 кг